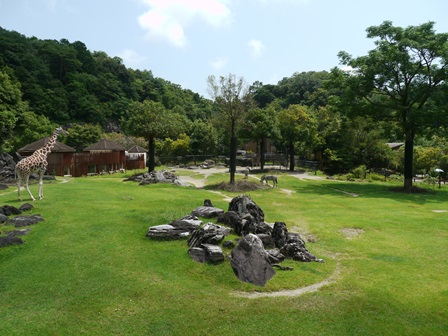 This zone was opened in July 1997 with the main attraction being the large African Savanna exhibit. Here on the spacious grassland, large herbivore including giraffe and zebra coexist leisurely with a variety of bird species. Three locations around the exhibit offer a view of animals in Savanna. From the observation deck at the northern end of the zone, you can get a rare look at the giraffe at eye level.
In the Australia zone, kangaroos laze and jump around on the grass.
Take the chance to rest your weary legs at the rest house "Pore Pore" and don't miss the opportunity to see the giraffe up nice and close on the other side of the glass enclosure.
Although these zones are inhabited by relatively large animals, they are surprisingly timid and it is important to be quiet in order to observe them in their natural state.
Animals you can see
Reticulated Giraffe
Eastern Grey Kangaroo
Mandrill
Meerkat
Grant's Zebras
Benett's Wallabies
Cape Barren Goose
White-Bellied Bustard
Shoebill
Laughing Hyenas