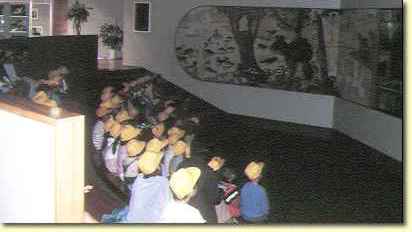 A variety of media is used in the animal science museum to offer an easy and fun way to learn about natural science and animals.
Animal Theater
Gain an insight into the biology of wild animals and the natural environment around Kochi on the 9-panel multi-screen.
Viewing hours: Weekdays 11:05am - 15:05pm (every hour), Sat, Sun, national holidays 11:05am - 15:35pm
12:05pm - 14:35 (every 30 minutes)
Animal Q & A
Animal Q&A is a fun and interesting attraction which puts your knowledge on animals to the test. Can you earn the title of quiz master?
Animal Panorama World
Gain an insight into the natural habitats of animals from all around the world at the touch of a button.
Book Corner
The book corner is full of books on topics including animals and natural science.
Animals & Extinction
An insightful exhibition depicting our extinct wildlife and the situation today.
Kiosk & Restaurant
See what's on offer at the animal science museum kiosk and restaurant.